Discover Baptiste Bohu's Amazing Apartment in Shanghai
Baptiste Bahu is an interior designer with a French Classicism and Contemporary style. You can see it his new project – Caroline Chen Apartment. The apartment owners are a young couple that loves to travel and be with their friends and family. To accommodate those gatherings, they needed a new home decor. This is where the french interior designer comes in and does a phenomenal job, despite the challenge of a rounded area.
Curious? Here are photos of the fantastic Caroline Chen Apartment that features a piece from BRABBU.
See also: OLIVIER DWEK COMPLETES S APARTMENT IN PARIS AND IT LOOKS OUTSTANDING
The hall of the house has pieces with a lot of personality, like the CYGNUS Display by BRABBU, and the De Gournay Pink Flamingos hand painted wallpaper, that with the grey walls and finnishes makes a great combination.
The dining room and kitchen have an open concept, giving the impression of a wider space perfect for entertaining guests. The bright yellow color blends nicely with the COLTRANE Wall Light and COLTRANE Suspension Light from DELIGHTFULL.
For the same impression of wider space, in the living room Bahu used bright colored furnitured to make a wonderful contrast with the grey and black stainless steel. One of the bold items is the BOTTI Chandelier from DELIGHTFULL.
The bedroom shows the interior designer's color pallet with black and white patterns, joined by Japanese art pieces.
The Master Bathroom has a unique piece, which was designed by Bahu himself. The great sink was customized in one piece of stone with the latest technology. The mirror has compartments incorporated for storage.
The Caroline Chen Apartment is a true harmony between elegance and color. It inspires a calm and soothing atmosphere perfect for every dinner party with your loved ones.
Would you like to know more about Baptiste Bohu and other amazing interior designers?
Brabbu created a new design e-book, where you can find inspiration from 20 interior designers that range from Classic to Modern style!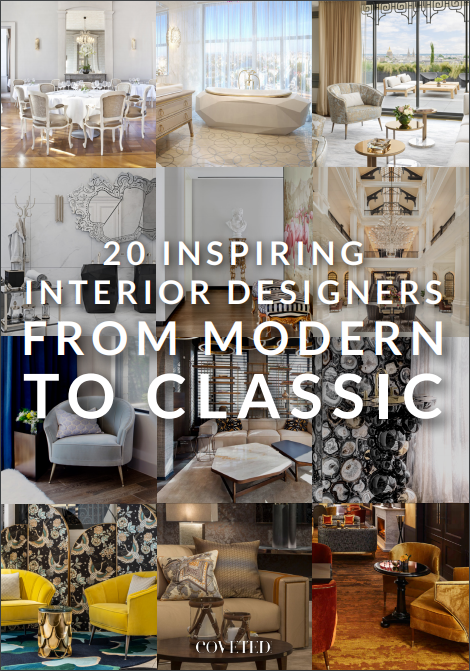 See also: THE BEST OF ISALONI 2017: NEW PIECES AT BRABBU'S STAND
>> What do you think about this article? Please, leave your comment below. If you want to be up to date with the best news about trends, interior design tips, and furniture luxury brands, you must have to sign up our Newsletter and receive in your email, free of charges, the latest and the most exclusive content from BRABBU Blog. Follow us on Pinterest, Facebook and Instagram.