Architect and designer,
India Mahdavi
founded her studio in 1999 and opened her showroom in 2003, becoming one of the best in her field and a true design inspiration for many of us. Based in Paris, the Iranian-born designer takes any material, from wood, ceramic, metal to lacquer and combines them into playful, captivating interiors, magnificent
home decor
.In fact, her interiors and furniture are really energetic; she uses color and shapes in such an interesting way that really makes you dream. Also, curves define the creative world of India Mahdavi. Pop Art liveliness infuses her lighting and furniture designs, among them her signature Bishop stool/low table, which resembles a chess piece writ large. These and other delectables can be found at her Paris showroom.
SEE ALSO: 10 Decorating Tips Trending On Pinterest This Month
One of Mahdavi's most beautiful public spaces include the Café Français brasserie in Paris: podlike seating in red and blue and acres of bronze-tone mirror. Many design lovers take decorating tips from this projects, since it is so bold.
The Coburg Bar, in the Connaught Hotel, London, was a project Mahdavi developped back in 2008. Here we can see how beautifully she managed to start decorating with dark grey walls.
Mahdavi has also designed a cinema room with 130 m2. It was a basement without much space. The first sketches explored its flaws, absorbed its imperfections and result is a colorful space. The mix of patterns make this another kind of modern interior design.
At the invitation of Thierry Costes, India Mahdavi delivers its first Parisian public project: a contemporary version of the bistro, revisited in a vintage spirit. It's Germain.
Charles de Gaulle is the first French airport to have its own Michelin-starred restaurant. The I Love Paris restaurant is helmed by three Michelin-starred chef Guy Martin. Designed by India Mahdavi, its interiors were inspired by the Palais Royal and the space also features a Champagne bar.
In 2010, the clients were Jean-François Piège and Thierry Costes, asking for the design of what would became one of the most exquisite restaurants in Paris.
The Gallery at Sketch in London has re-opened its doors in June 2014. To give Shrigley's drawings and ceramic tableware room to breathe, India Mahdavi has conceived a soothing, monochromatic, strikingly comprehensive interior. For those looking for interior design inspiration: call off the search. This project is amazing!SEE ALSO:
10 Decorating Tips Trending On Pinterest This Month
Would you like to know more about India Mahdavi and other amazing interior designers?
We have created a new design e-book, where you can find inspiration from 20 interior designers that range from Classic to Modern style!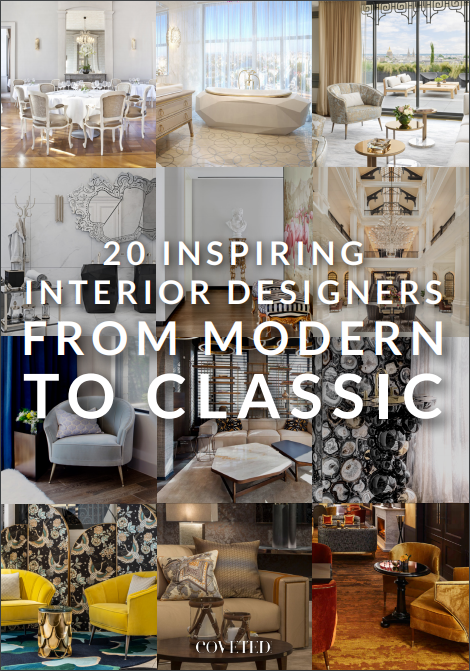 What do you think about this article? Please, leave your comment below. If you want to be up to date with the best news about trends, interior design tips, and furniture luxury brands, you must have to 
sign up our Newsletter
 and receive in your email, free of charges, the latest and the most exclusive content from 
BRABBU
 Blog.